Encore West Residence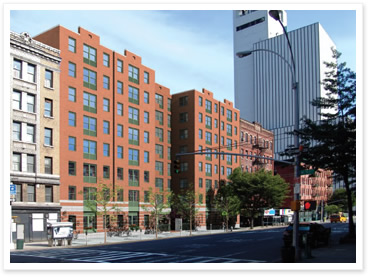 ENCORE WEST RESIDENCE
755 Tenth Avenue, New York, NY 10019
(between 51st and 52nd Streets)
Tel: 212-991-3727
Fax: 212-991-6722
The Encore West Residence which celebrated its opening in 2007, is a housing project in midtown Manhattan which addresses the need for affordable housing for very low income seniors, 62 years of age and older, with incomes of $27,750 for one person and $31,700 for two.
Funding for this project was secured (through a capital grant) from the U.S. Department of Housing and Urban Development (HUD), under its Section 202 Supportive Housing Program for the Elderly. Encore West provides 84 fully-equipped apartments with kitchenettes. Also provided are laundry facilities, a library, a multipurpose community room and other amenities in a safe, secure and caring environment. Encore West offers on-site services to help seniors maintain their independence, and a variety of recreational activities for social interaction, so important in maintaining good health of body and spirit!
The need for affordable housing is at a critical level for many elderly citizens whose incomes fall far below what is needed to survive. Projects such as Encore West help to alleviate this growing housing crisis for seniors with limited incomes.